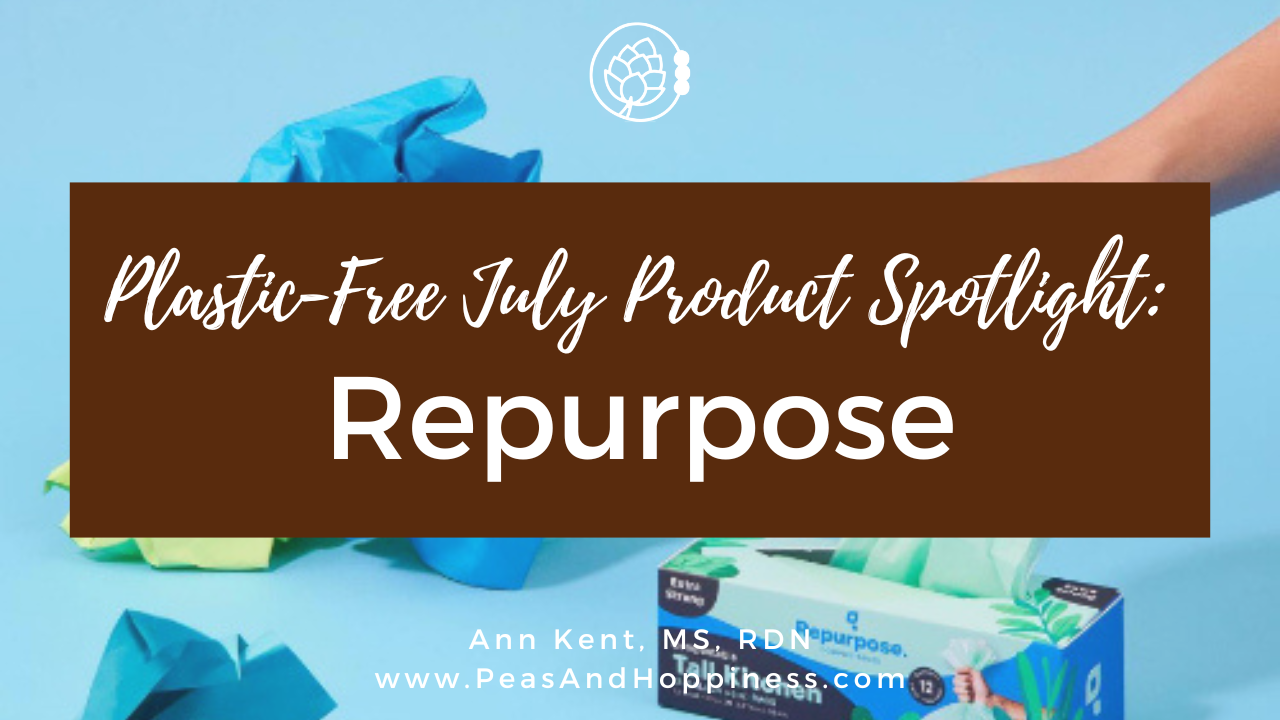 Celebrate Plastic-Free July with plant-based compostable plastic products to continue your eco-friendly journey.
Happy Plastic-Free July, friends!
This month is in existence because nowadays plastic is everywhere. It's never more apparent than when you're intentionally trying to decrease your plastic use!
The good news is it seems I'm not the only one to notice this – and companies are starting to step up to meet the demand for plastic alternatives.
To celebrate this year, I'd like to share 3 simple tips to eliminate plastic featuring one of my new favorite plastic-free companies: Repurpose.
Repurpose describes their company as "a small-but-mighty team of eco-entrepreneurs with a passion for educating consumers on the dangers of single use plastic, and designing safe, durable alternative plant-based products."
Note: the links in this article are affiliate links, for which I earn a small commission. I only recommend products I love.
Tip #1: When you Need Disposables, use Plant-Based Compostable Plastic
Summertime for us means eating outside – picnics, barbecues, or just enjoying time on the back deck. And while real-plates-and-silverware are preferable, they're not always practical
Enter: plastic-free disposable cutlery, plates, and cups. These cold cups and utensils are made from plants so you can compost them instead of toss them.
Plant-based plastic is a great alternative, as traditional plastic is made primarily from oil and gas. In fact, about 4% of the world's petroleum is used to make plastic, and another 4% is burned during the production. Manufacturing plastic using these fossil fuels create greenhouse gasses which contribute to climate change (source).
Repurpose also carries plastic-free disposable wine glasses and hot cups as well as compostable plates. Instead of worrying about clean-up, use these and then compost them rather than adding to the landfill.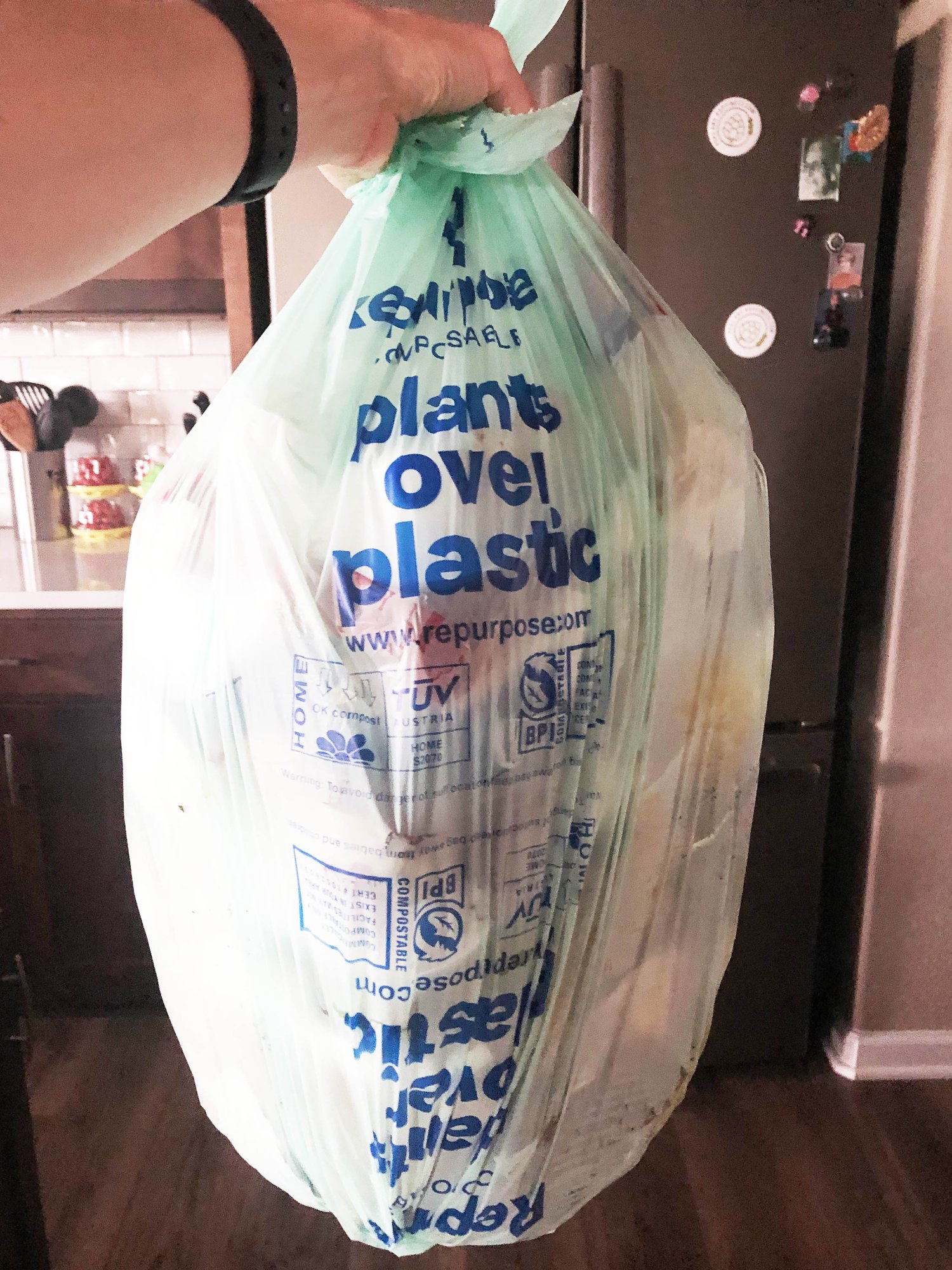 Tip #2: Choose Plastic-Free Trash Bags
Where should you toss the trash you do have?
Plastic bags take up to 20 years to decompose and when they accidentally wind up in water they pose one of the biggest impacts to ocean wildlife (source).
One of the reasons is because they can break down into smaller and smaller pieces, eventually ending up as microplastics, which then enters the food chain and wreaks havoc on all of us.
Instead, check out these plant-based kitchen trash bags. They fit a standard kitchen trash can and are surprisingly durable (as long as you don't overfill them!).
Tip #3: Avoid Plastic Packaging Whenever Possible
When I began my plastic-free journey, one of the things that struck me was the amount of plastic in packaging.
Plastic packaging is everywhere! Cheese wrappers, plastic-wrapped games and toys, packing peanuts (side note: Tiny Yellow Bungalow packages her items with compostable packing peanuts!!), clear tape!
Even the paper products I used were packaged in plastic.
Instead of packaging in plastic, this toilet paper and these paper towels come individually wrapped in zero waste paper packaging. The paper itself if made from bamboo, a much more sustainable material than trees.
Every Bit Counts
Whether you've just begun your plastic-free journey or are at expert-level plastic-reduction, I want to remind you that every bit counts.
And perhaps even more than the personal impact you're making is the impact you make on others: when you share a product idea or inspire a friend to reduce the plastic in their life, your impact grows exponentially.
For more ideas on how to decrease single-use plastic in your household, check out these Plastic-Free Swaps for Personal Care, Cleaning, & Shopping.
For other ways to reduce your carbon footprint, check out how to Save Money and Prevent Food Waste with these 3 Meal Planning Tips.
Happy plastic-free journeying,
Ann