Mealtime is about sharing life together.
Hi, I'm Ann. I enjoy laughing with friends, food puns, and meals with my favorite people. I also love taking the mystery out of eating better.
I grew up on a farm in Kansas where dinnertime was a special place for my family. Now I have my own family to pass on this tradition of gathering around the table.
I believe family mealtime is about so much more than food and nutrition; it's also about the memories we make together.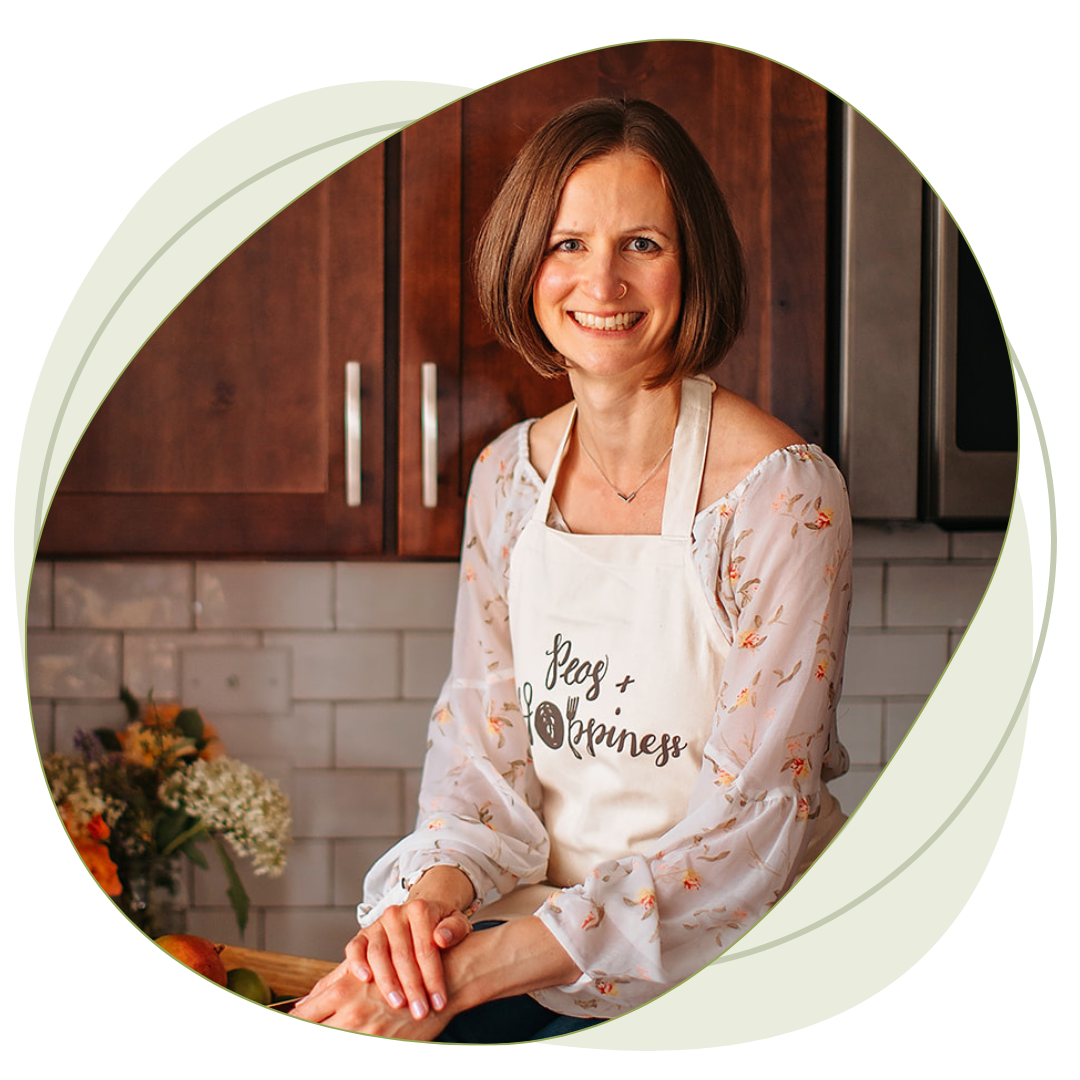 From farm to table to health
Peas and Hoppiness started as a passion project to unite the three silos in which food exists: to teach my fellow humans how food is grown, how to cook "healthy" meals that taste good, and how to ditch dieting to intuitively nourish your body.
Learn where your food comes from and how to be more sustainable
Understand how to create a delicious meal
Enjoy how food nourishes your body while ditching diet culture. 
Ann Kent, MS, RD:
what the credentials mean
There are lots of "experts" and conflicting nutrition advice out there. Let me share with you my educational journey.
T: The Diet Book without the "Die"
I learned about the dietetics profession in high school where I wrote and sold my first cookbook as part of my senior project. It was called: "T: The Diet Book without the 'Die'"
Bachelor of Science in Dietetics (BS)
I graduated summa cum laude from Kansas State University with a bachelor of science degree in dietetics.
Registered Dietitian (RD)
I completed my dietetic internship and passed the national registration exam to become a Registered Dietitian (RD), sometimes also referred to as a Registered Dietitian Nutritionist (RDN).
Master of Science in Dietetics and Nutrition (MS)
I graduated summa cum laude from the University of Kansas Medical Center with a master of science in dietetics and nutrition. My thesis research was in carbohydrate counting for people with diabetes and I worked as a research assistant for the KU Diabetes Institute while in school.
Certified Diabetes Care and Education Specialist (CDCES)
I became a Certified Diabetes Care and Education Specialist (CDCES, formerly known as Certified Diabetes Educator or CDE) when I passed the national certifying exam after having worked in the field for two years and spending over 1,000 hours teaching patients about diabetes.
I wrote the first blog post for Peas and Hoppiness. It started as a hobby, a way to share about my family's farm, my favorite recipes, and explore the intersection between agriculture, food, and nutrition.
Peas & Hoppy Meal Guide Membership
I quit my "day job" at an endocrinology clinic where I worked as a dietitian and diabetes educator with a mission to help make it easier for busy families to eat together and launched the Peas & Hoppy Meal Guide Membership. I also got married to my incredible husband and became a stepmom to my incredible son.
I became a biological mom when James joined our family and learned even more about the balance between work, play, and family.
Peas & Hoppy Meal Guide App
We published our first app: the Peas and Hoppy Meal Guides, one of the final pieces of the puzzle to my goal of helping real families get a real dinner on the table in a way that realistically works with their schedule.
We continue to learn, create, and explore. I attend professional conferences and webinars to maintain my professional certifications and am always cooking up something new (literally) in the kitchen.
I'm a cook, not a chef. My degree is in nutrition, not culinary arts. I learned my way around a paring knife by cutting apple slices to send to the field when I helped my mom "make lunches" during wheat harvest on the farm.
You'll find evidence of my roots in all of my recipes. I use real ingredients you can find at any grocery store. Meals are balanced nutritionally and tested in my own kitchen to make sure they taste as good as they look. Some recipes might appear fancy, but the techniques are simple and thoroughly explained so every level of cook can feel confident in the kitchen.
I grew up on a farm in Kansas where I learned how food is grown. Working as a dietitian in a clinic I also saw how unattainable healthy eating is for so many people.
Experiencing these multiple angles - from producer to consumer to healthcare provider - I've witnessed the food crisis America has found herself in, where she produces lots of calories, but not enough nutrition.
I hope to be part of the conversation about what it means to produce nourishing food in a sustainable way for farmers, for eaters, and for the planet.