Beets are a delicious fall and winter seasonal vegetable! Learn about beets' nutritional content, and how to best choose, store, and cook this root vegetable.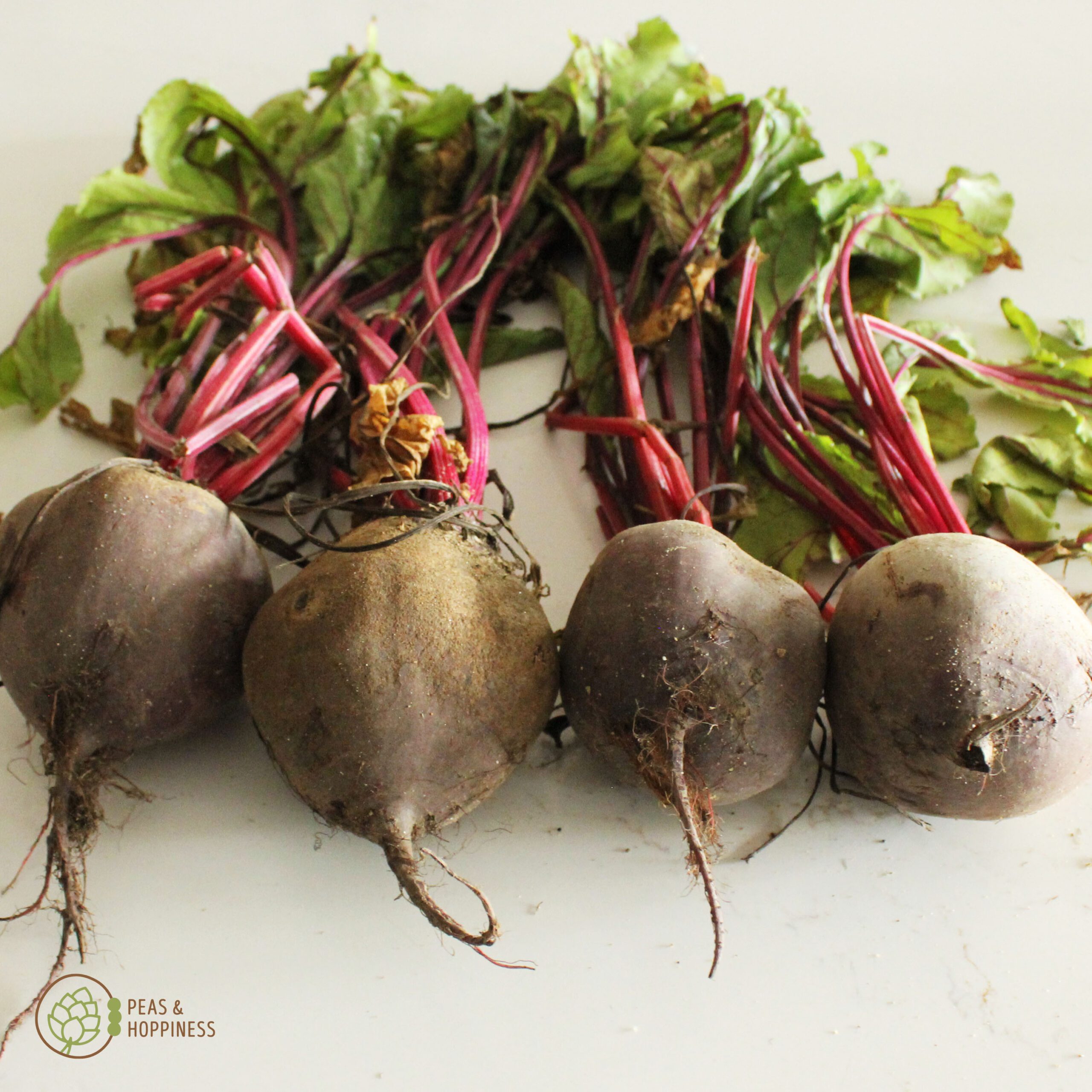 Now that summer has ended, it's time to turn to fall and winter seasonal vegetables. One of my personal favorite options are beets.
Both the roots and greens of beets are packed with nutrition. When stored properly, beet roots can last all winter long. They are so versatile that even after a long winter of root vegetables, you can (hopefully) still find a way to prepare them that you enjoy!
Learn how to choose the perfect beet at the farmer's market, as well as the nutritional content, storage, and ways to eat this delicious vegetable.
How to Choose the Perfect Beet
When possible, look for beets which still have the greens attached. Brightly colored, crisp greens indicate the beets have recently been picked.
If greens aren't attached, choose beetroots which are firm to the touch. Soft or squishy beetroots are still edible, but aren't as good for using raw and won't be able to be stored as long.
Nutritional Benefits of Beets
Beets are a powerhouse of nutrition! They are considered a non-starchy vegetable. Their bright, rich colors tell you they're packed with phytonutrients, vitamins, and minerals.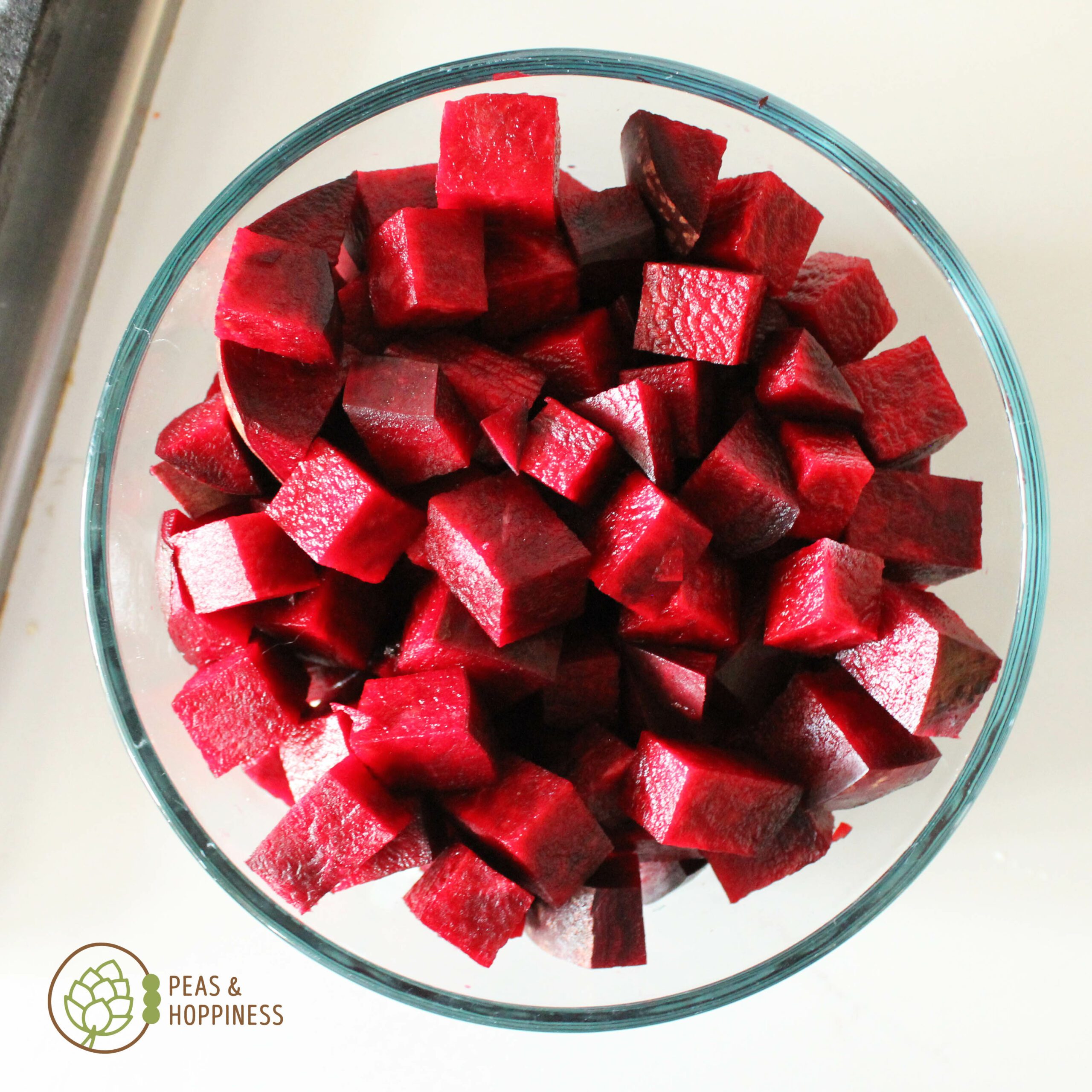 The red color of beets comes from antioxidants called betalains. Betalains have been associated with a number of anti-inflammatory health benefits like reducing atherosclerosis (hardening of the arteries) and DNA damage (which can cause cancer and promotes aging).
These Betalains are the reason consuming beets is potentially beneficial for chronic conditions like heart disease, liver disease, and cancer. Note that Betalains are sensitive to heat, so minimize the cook time to preserve these nutrients.
In addition, beets' leafy green tops are high in lutein and beta-carotene (the precursor to Vitamin A). These nutrients are important for eye health, a healthy immune system, and healthy skin and mucous membranes. Similar to betalains, beta-carotene is also an antioxidant and helps reduce inflammation in the body.
Vitamins & Minerals in Beets
Both beet roots and greens are packed with vitamins and minerals. Beet roots are particularly high in folate. They also contain a significant amount of trace minerals manganese and copper.
Beet greens contain high levels of Vitamin C, Beta-Carotene (the precursor to vitamin A), Vitamin B6, and folate. They also contain high amounts of some important minerals, including iron, calcium, and potassium.
Pro Tip: Scrub beet roots well to remove the dirt. Leave the peel on to enjoy the extra nutrition from trace minerals found just below the surface.
Macronutrients in Beets (Carbs, Protein, and Fat Content)
Beets have a similar nutritional profile to other non-starchy vegetables. A half-cup serving of cooked beets contains about 29 calories, 6 grams of carbohydrates, and 2 grams of fiber. It has negligible amounts of fat and protein.
One of the best nutritional benefits of beets is their high fiber content compared to the total carbohydrates. Even though these root vegetables taste sweet, this fiber helps to stabilize the effect of the carbohydrate for long-lasting energy and promotes gut health.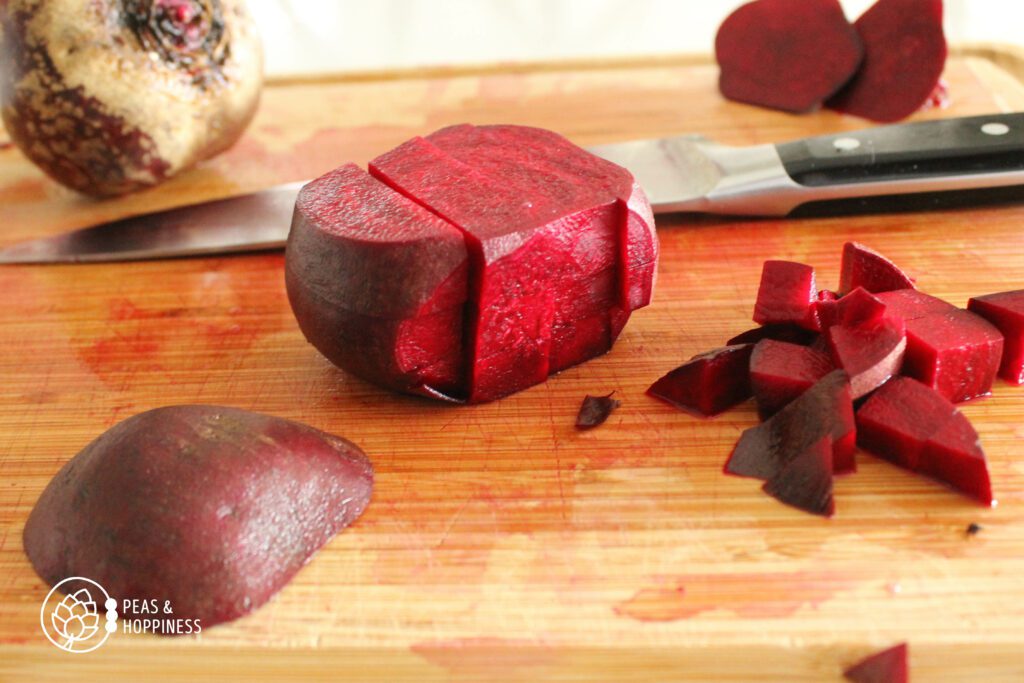 When are Beets in Season?
Because beets have a long growing season and are so hardy, you can enjoy these many months of the year.
In cooler climates baby beets start to appear in mid-June. Their growing season lasts late into the fall and can be harvested around the time of the first frost.
After harvest beetroots can be stored for months even afterwards. They're a great vegetable to store in a cool, dark place to enjoy during the winter.
To store beets, first trim the beet greens. Store the greens wrapped in a damp cloth in the crisper drawer of the refrigerator up to several days. These are delicate and won't last much past that.
The beetroot can be stored dry in a crisper drawer or in a cool, dark place (like a cellar) for up to several months. Avoid moisture to prevent mold from growing on the beets!
Beetroots are incredibly versatile:
Grate beets and add them raw to a salad
Cut them into cubes and roast them, with or without other root vegetables, to bring out their sweet flavor.
Slice and boil the beet and enjoy it warm with a shake of salt, pepper, and a bit of butter.
Cool cooked beets and add them to salads or marinate in Balsamic vinegar for a perfect side dish to bring to a summer barbecue.
The leaves of the beetroot are also good to eat! The texture of greens is similar to spinach. Chop up the leaves and use them in place of spinach as sauteed greens, in casseroles, or even raw in smoothies or salads.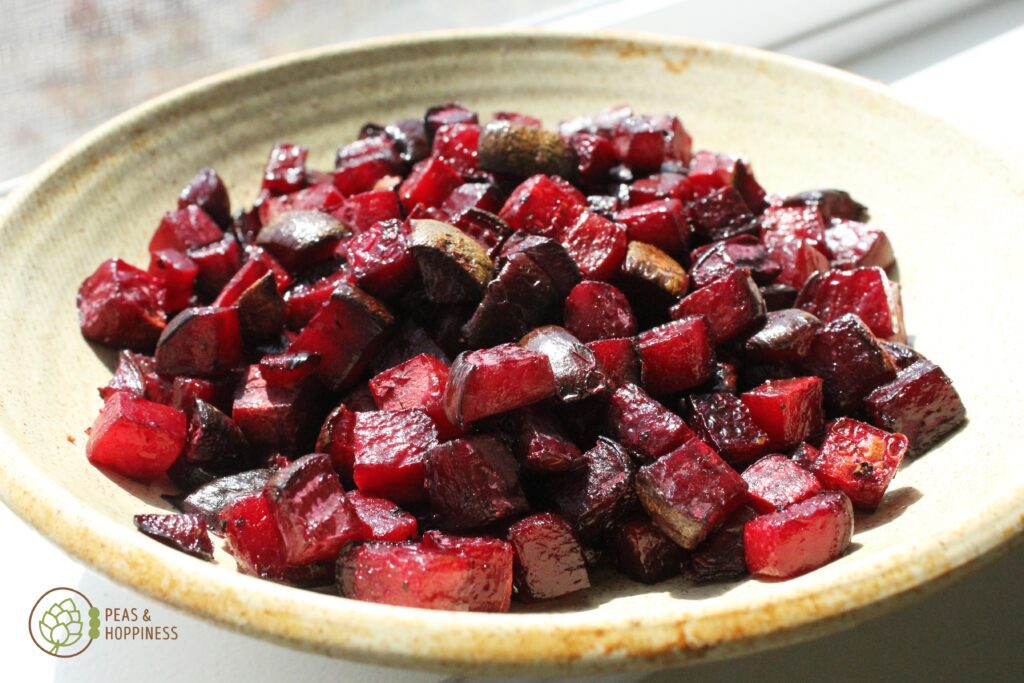 One of my favorite ways to enjoy vegetables is simply to roast them. Also try this Red, White, and Blue Cheese Salad for a different twist. I love this salad especially in springtime once fresh greens are emerging again!
For more beet recipes and other ways to use your seasonal produce, start a free 2-week trial of the Peas & Hoppy Meal Guide membership. Every week members get 10 fresh meal ideas for breakfast, lunch, dinner, and snacks – all planned around what produce is in season.
Add or delete recipes from your Peas & Hoppy Meal Guide to make it your own every week. All customizations automatically update the made-for-you grocery list. Save time, money, and stress – and enjoy having dinner planned for you!
Do you have other favorite ways to enjoy beets? Share your best beet tips in the comments below!
Happy beet eating,
Dietitian Ann from Peas and Hoppiness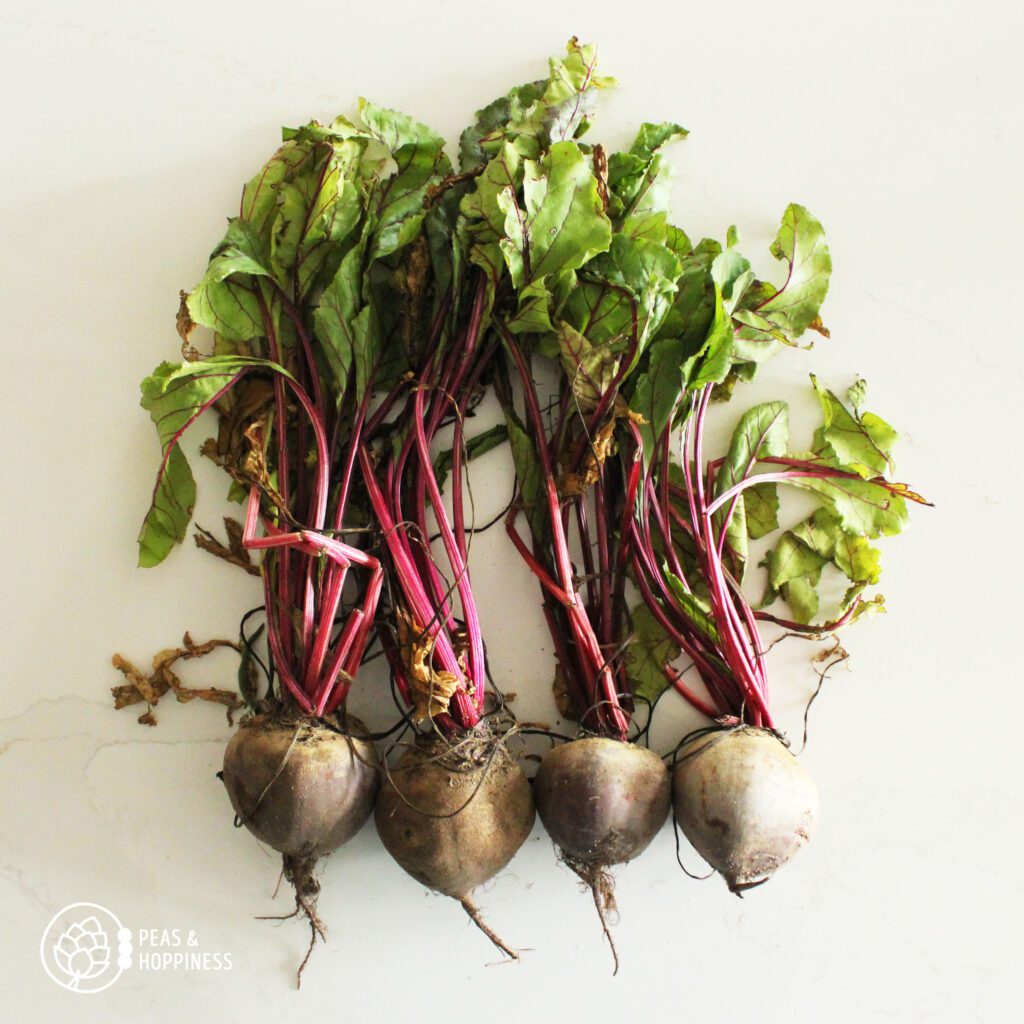 Best Vegetables in Every Season
Snow on the ground? No problem! Download this free Seasonal Vegetable Guide to know which veggies are best for each season of the year.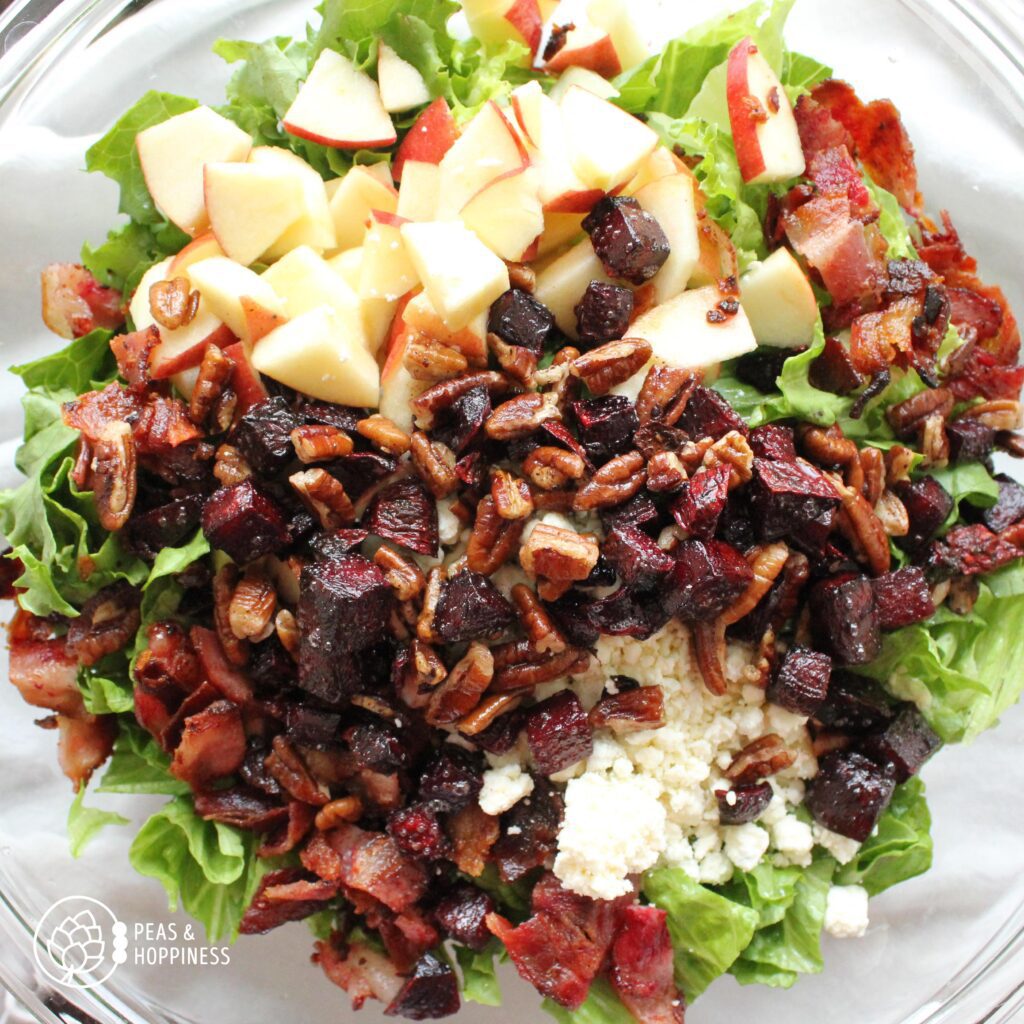 Fresh Meal Ideas are Just a Click Away
Our customizable meal planning service will get you out of those food ruts to start enjoying dinnertime again!
Start your free trial to gain immediate access to your Meal Guide PLUS over 800 dietitian-approved recipes!
"The Meal Guides have helped by simplifying planning, portion control, and trying new foods. I enjoy cooking more."
-Pat Harry, member of the Peas & Hoppy Meal Guides