Reduce your carbon footprint by eating plant-based meals with this eco-friendly vegan recipe. Learn an easy way to cook tofu that's perfect for beginners!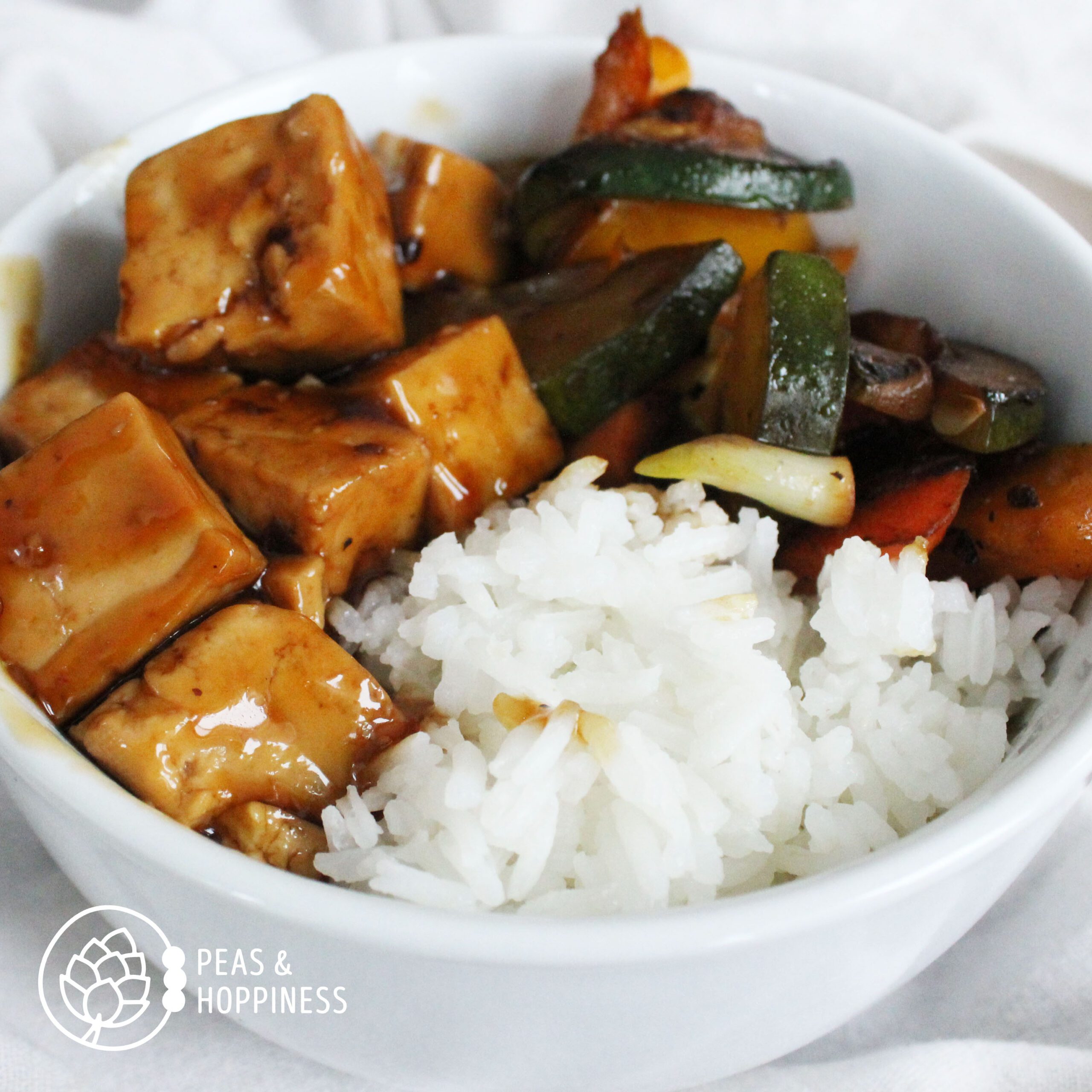 Shifting towards a plant-based diet is one of the best things you can do for your health and the health of the planet – and the good news is: you don't have to do it all at once!
In fact, making a few small changes – like starting with "Meatless Mondays" or trying a vegetarian option the next time you go out to eat – can help you get your foot in the door to make really big changes in your eating pattern.
This recipe for Teriyaki Tofu & Vegetable Bowls is perfect if you're new to plant-based eating. It's so simple to make and comes together in less than 30 minutes!
Tofu is basically soy cheese: it's made by coagulating soy milk, then pressing the curds together into blocks.
It's available in different textures, from silken (very soft) to extra firm. Read on for this delicious recipe to make tofu taste amazing!
How to Make Teriyaki Tofu and Vegetable Bowls
To get started making Teriyaki Tofu & Vegetable Bowls, cut two blocks of extra firm tofu into 1-inch cubes and press liquid from tofu 10-15 minutes.
Start by draining the water from the tofu package: simply cut a slit in the packaging and pour off as much water as possible.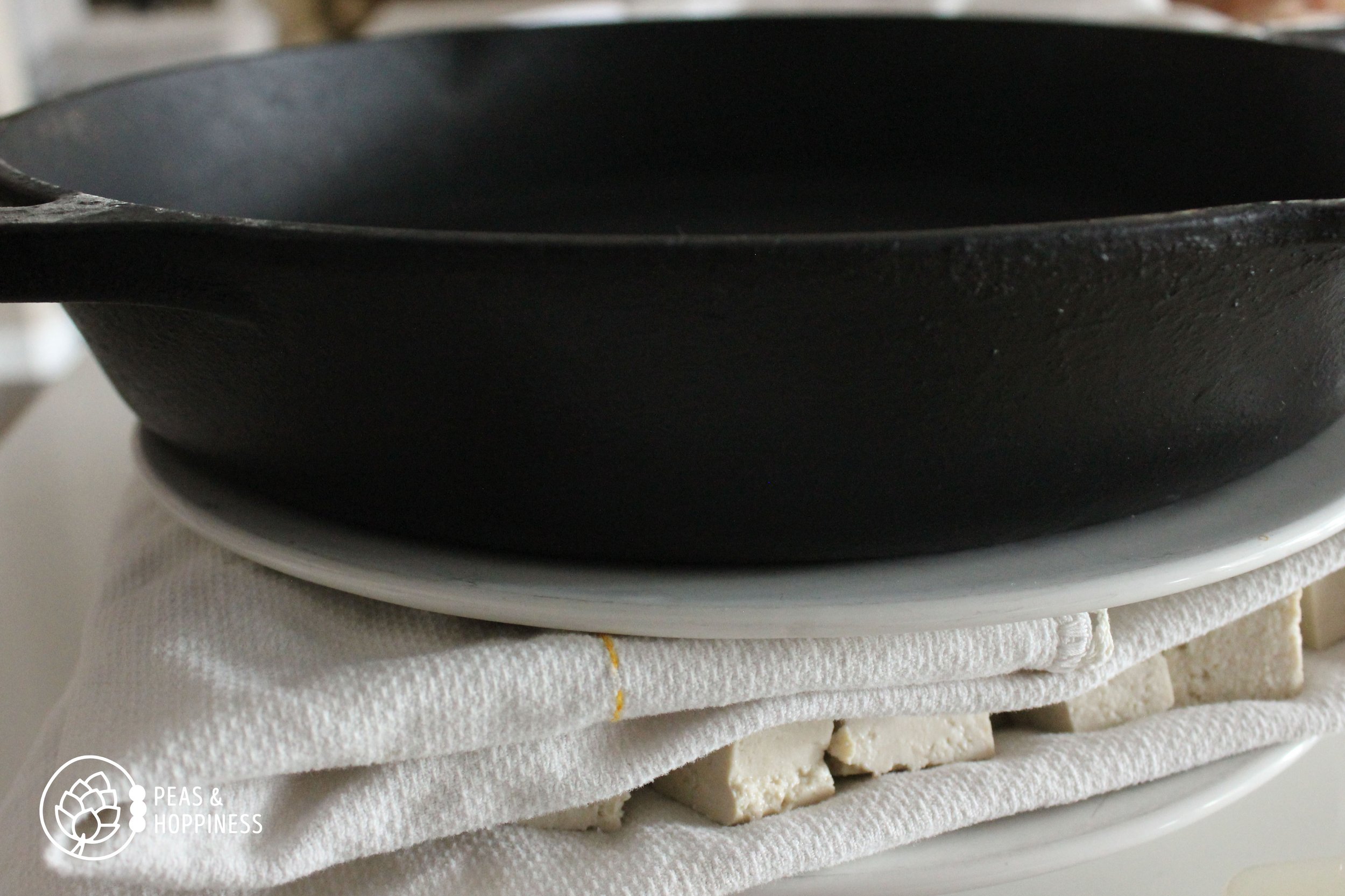 Next, cut the tofu into the size of pieces you plan to use for your recipe. Once the tofu is cut into pieces, place a clean tea towel on a plate and arrange the tofu evenly with space between the pieces if possible. Place a second towel on top of the tofu, then place a second plate on top of the towel.
Now lay something heavy on top of the plate. I like to use my cast iron skillet, or you could grab several cans of food from the pantry and stack those on top.
The weight from these heavy items will (literally) press the water from the tofu and the towel will absorb it. Let the tofu sit like this for 10-15 minutes.
Make Jasmine Rice for Tofu Bowls
While liquid presses from tofu, make jasmine rice: Rinse 1 ½ cups of jasmine rice, then add rice, three cups of water, and 1/4 teaspoon of salt to small saucepan.
Turn up heat to bring to a boil, then reduce heat, cover, and simmer 10-15 minutes until all water has been absorbed. Once water is absorbed, turn off heat and let rice sit another 10 minutes, then fluff with a fork just before serving.
Stir-Fry Vegetables for Tofu Bowls
While rice cooks, slice an onion and mince two cloves of garlic. Heat a large wok or sauté pan over medium-high heat. Once hot, add two tablespoons of canola oil, onion, and garlic. Cook, stirring occasionally, about 5 minutes.
Pro Tip: To save even more prep time, use pre-minced garlic (found in a jar) and use a frozen Asian-style vegetable blend instead of cutting up fresh veggies from scratch. Cook at a higher heat so they become crispy before becoming too soggy.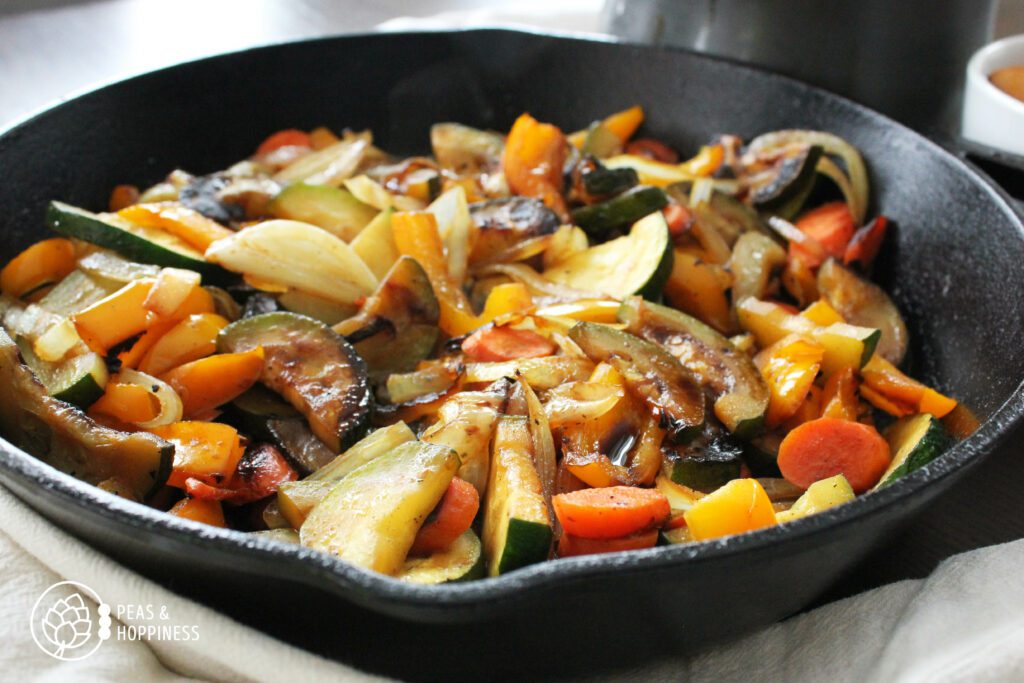 While onion and garlic cook, slice two zucchini into rounds, slice two bell peppers, and cut two carrots into diagonal rounds. Add to sauté pan with onion and garlic as they are prepared.
Cook vegetables 10-15 minutes, stirring occasionally, until starting to soften and brown. Once vegetables are fully cooked, remove from heat and stir in two tablespoons of soy sauce.
Pro Tip: you can substitute almost any veggie you would like into or out of this mix, such as broccoli, snap peas, green beans, yellow squash, leeks, other types of peppers, Bok choy, mushrooms, or cabbage!
Cook Tofu for Teriyaki Tofu and Vegetable Bowls
While rice and vegetables cook, add a half cup each of teriyaki sauce and water to a deep skillet and stir to combine.
Arrange pressed tofu cubes in sauce no more than one layer thick and stir gently to cover all cubes with sauce. Bring sauce to a boil, then reduce heat simmer 8-10 minutes until tofu begins to absorb some of the sauce. Stir tofu gently several times to ensure even cooking while simmering.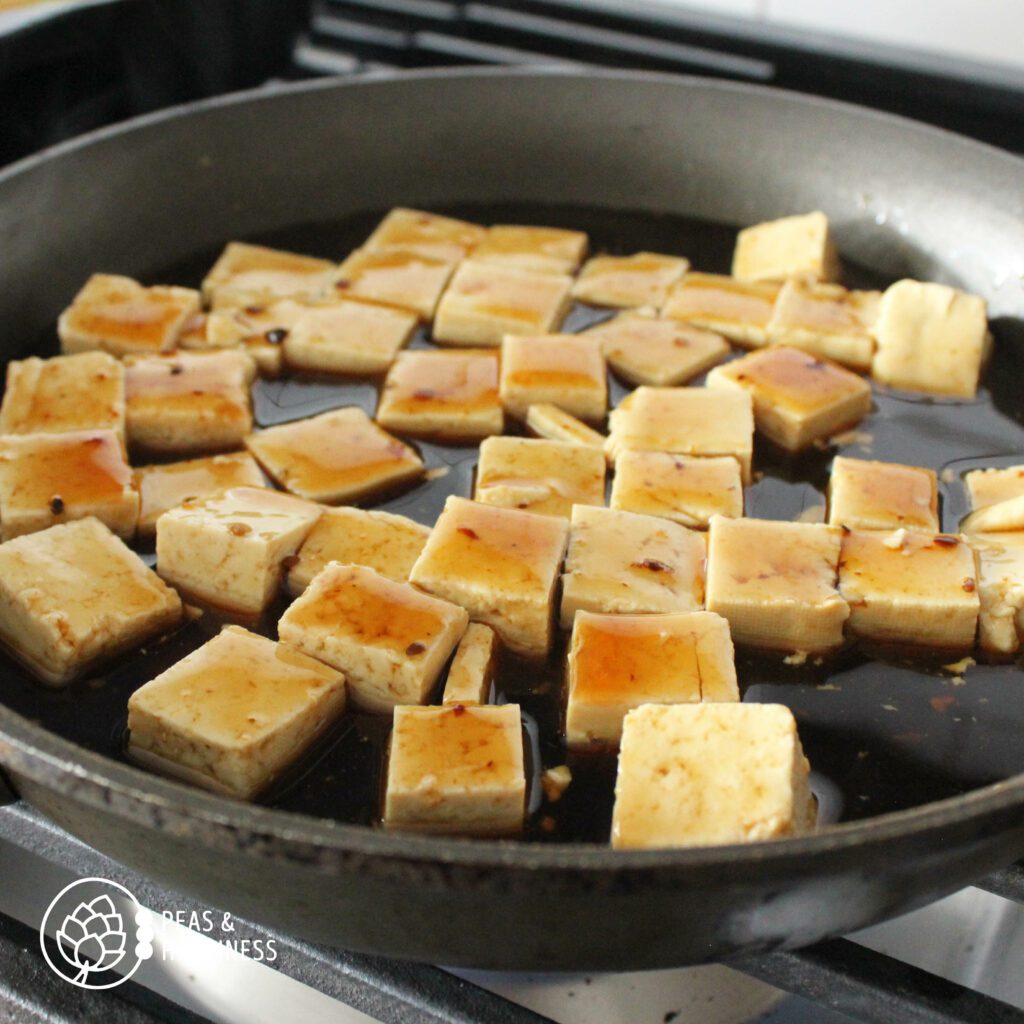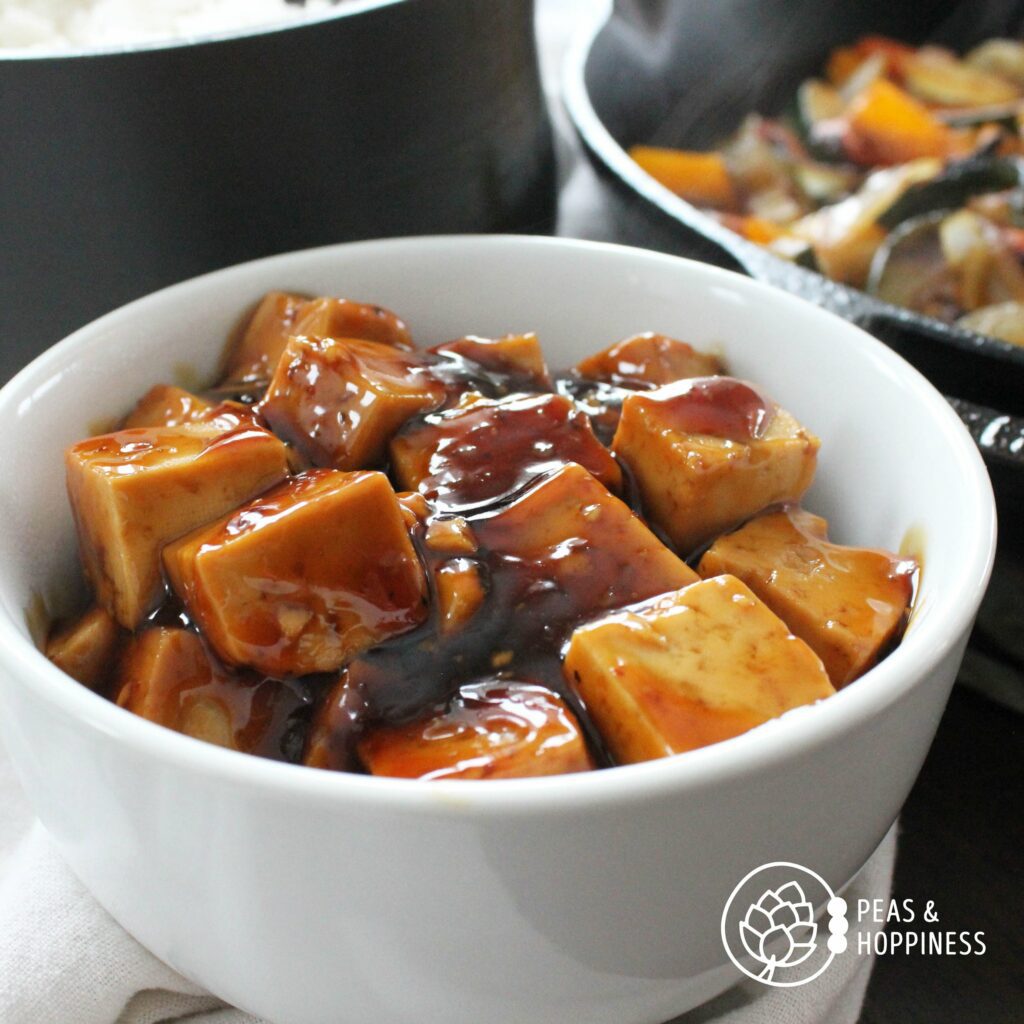 Pro Tip: for variety, try different types of sauce, such as orange sauce or honey bourbon glaze. The possibilities are endless! For a gluten-free meal, choose a gluten-free sauce.
Enjoy This Easy Recipe for Vegan Teriyaki Tofu and Vegetable Bowls!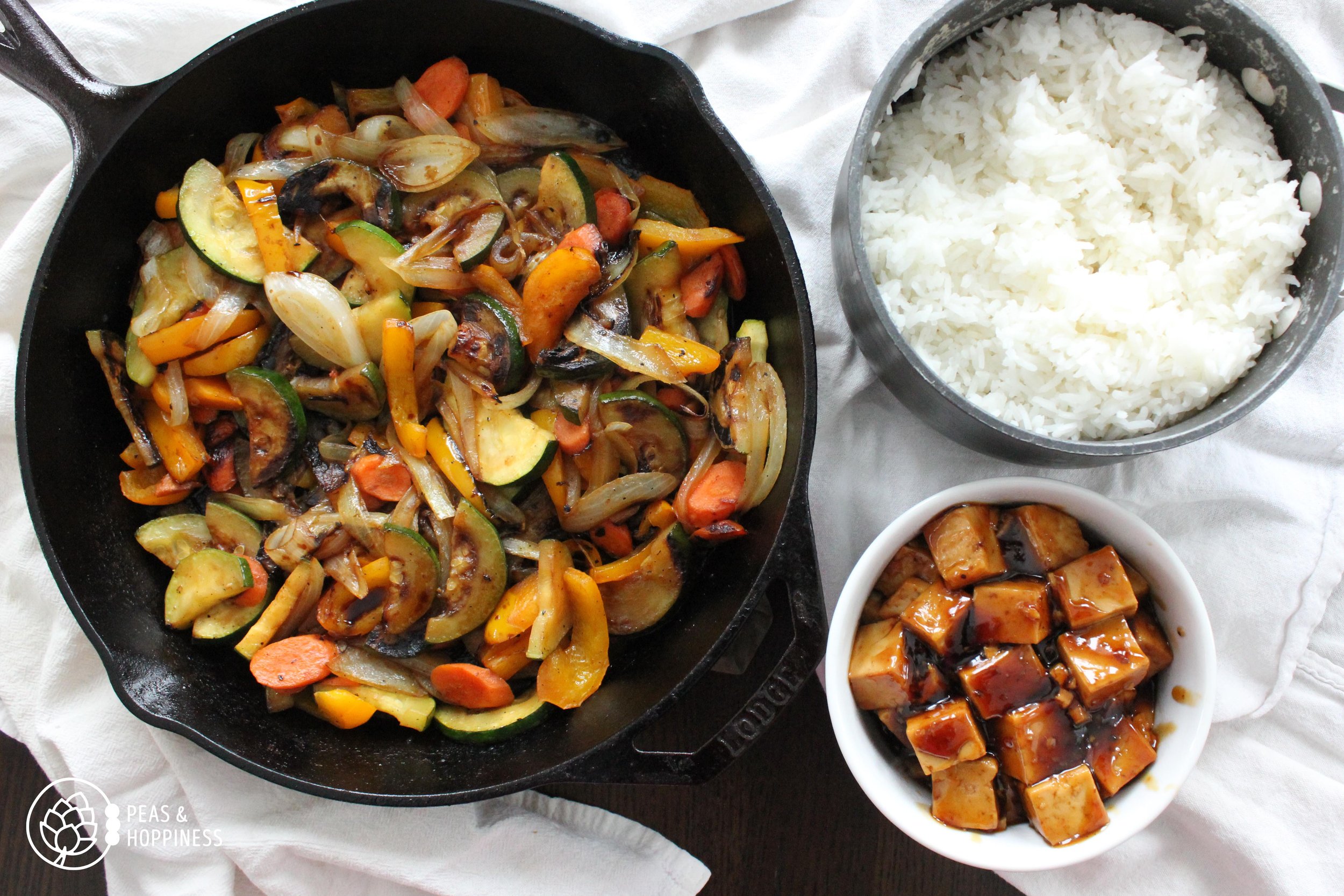 Once rice and vegetables are cooked, assemble bowls: 1 cup rice + 1/2 cup tofu with sauce + 1 cup veggies.
Make these bowls ahead of time and refrigerate in individual containers for an easy meal on the go. Top with additional soy sauce, Teriyaki sauce, fish sauce, chili sauce, and/or rice vinegar for more flavor.
Enjoy your easy vegan Teriyaki Tofu & Vegetable Bowls!
Happy plant-based eating,
Dietitian Ann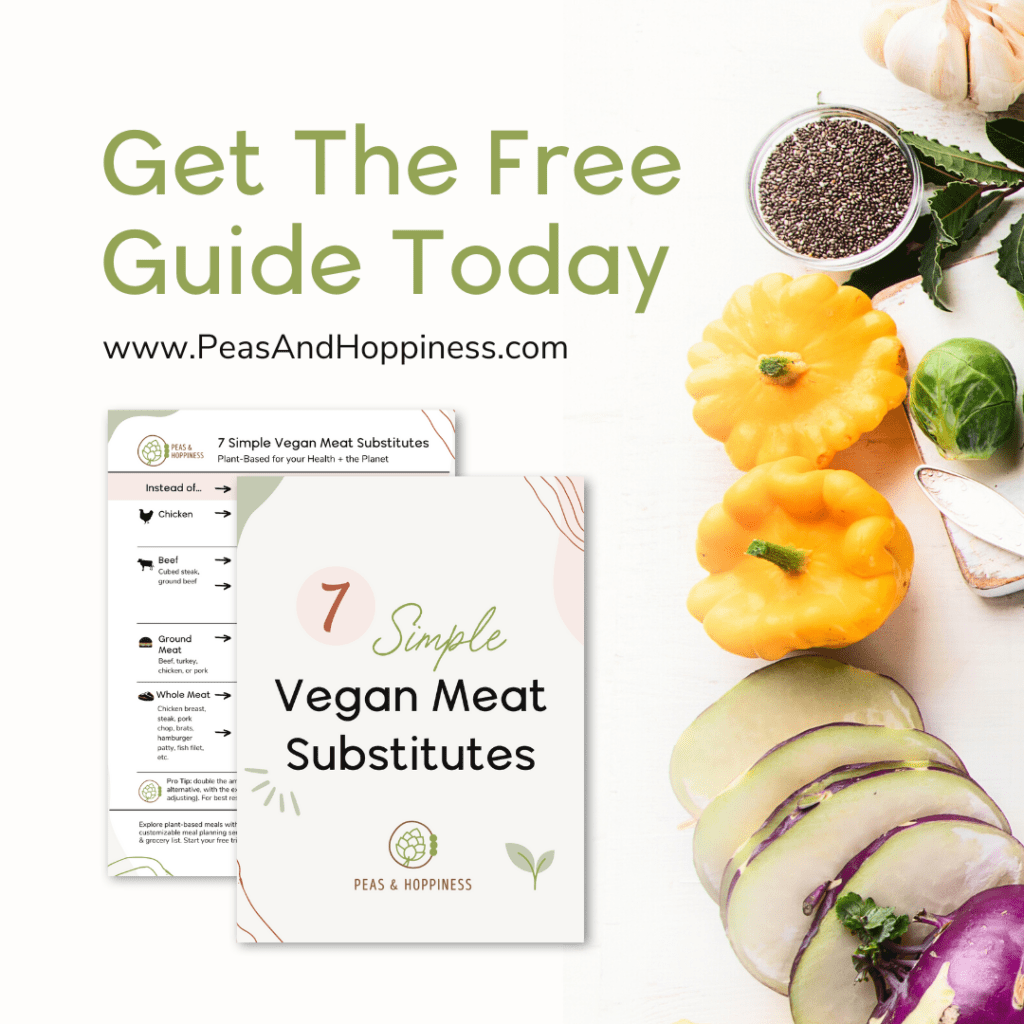 Eat Better For You + The Planet
Shifting towards a plant-based lifestyle is one of the best things you can do for your health and the environment.
Get started with this free try one of these vegetarian alternatives in place of meat in a recipe you already know how to make. Little changes can go a long way!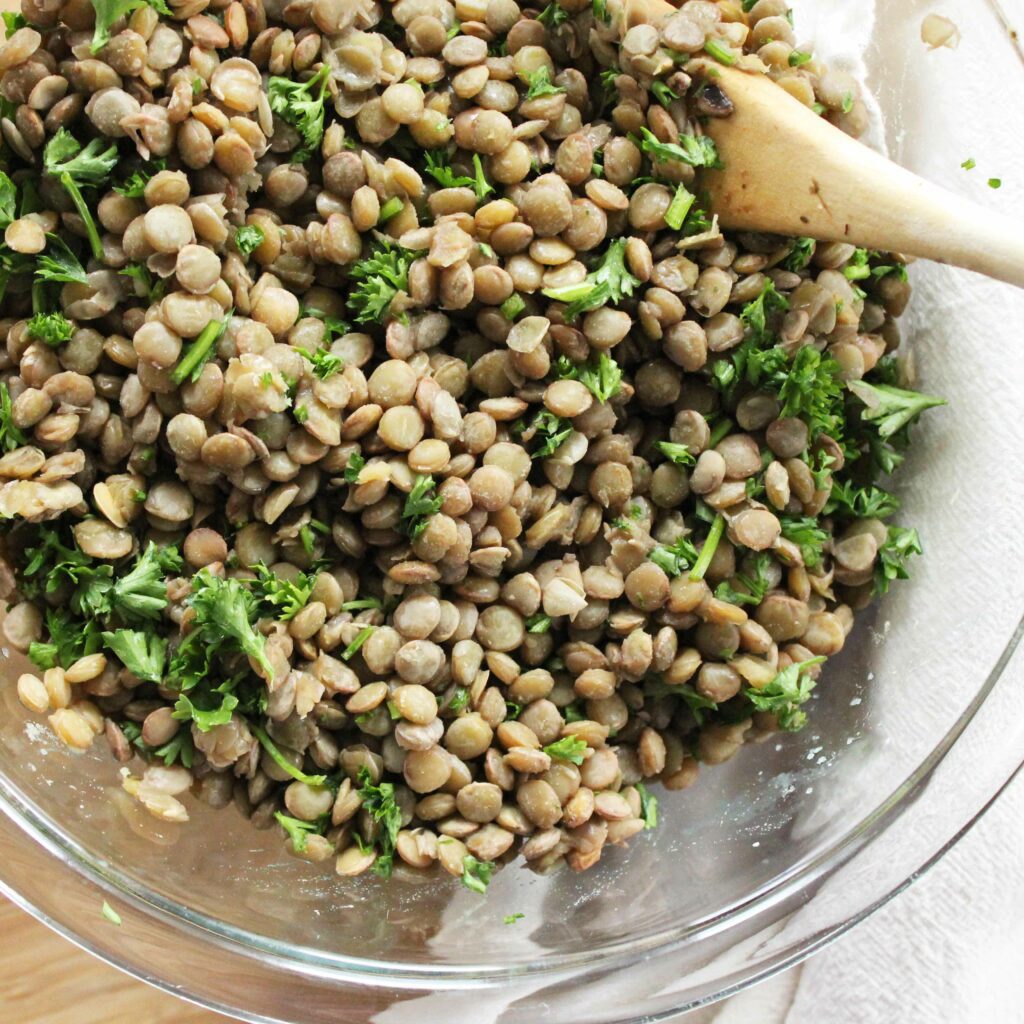 Easy Plant-Forward Eating
For a trusted source of delicious plant-based recipes, start a FREE trial of the Peas & Hoppy Meal Guides.
Our customizable meal planning service includes at least one vegetarian meal on your weekly menu. PLUS you have access to all 800+ dietitian-approved recipes, half of which are completely plant-based!
The Meal Guides have saved me a lot of time finding & trying new recipes. We eat a lot more fish & vegetarian entrees now which are a great addition to our previous meat & potatoes fare!
– Margaret Scheufler, Member of the Peas & Hoppy Meal Guides